Skip to Content
Aluminum Fence Installation
Philadelphia-Area Aluminum Fence Installation
While wood fencing may be considered a classic, there's an understated elegance to aluminum fencing. Because it's virtually maintenance-free and built to last, more property owners are considering aluminum fencing than ever before. If you need an aluminum fence installation in Philadelphia or elsewhere in Delaware County, J & P Fencing has a variety of styles, colors, and heights to suit your property and budget. Aluminum fencing is lightweight, making it easy to install and repair. Easy installation allows us to keep our labor costs low. Because it's possible to fix specific sections without replacing the entire fence, repairs are often less costly when compared to other types.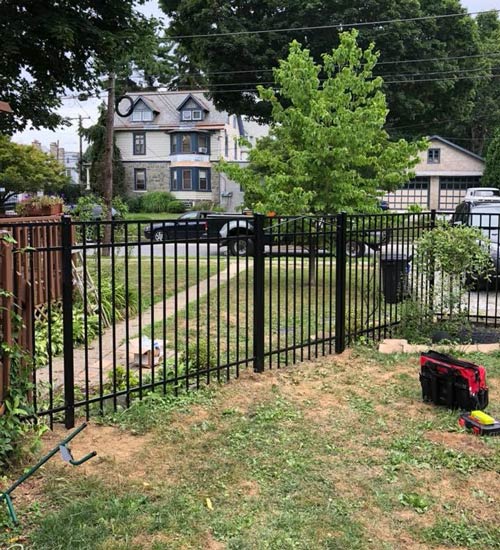 Benefits of Aluminum Fencing for You to Consider
While it may not be the first type of fencing that comes to mind, you're doing yourself an injustice if you don't consider aluminum fencing for your next renovation project. Aluminum fencing offers many distinct benefits over other types of fencing, including the following:
Durability – You want your new fence to last a lifetime. Unlike wood or wrought-iron fencing, aluminum fencing won't rust or fade.
Versatility – Aluminum fencing is versatile enough to be installed on flat or sloping landscapes and can even be customized according to your property's demands.
Affordability – Aluminum fencing is cheaper to manufacture than wrought-iron or steel fencing. While it can be more expensive than wood fencing, it's an investment that pays for itself over time. You won't have to repaint or restain it, making it low-maintenance.
Eco-Friendly – Often made from recycled materials, aluminum fencing makes an eco-friendly choice. Feel even better about your decision by knowing that you can recycle it later!
Strong Enough to Withstand Pennsylvania Winters
Working with clients in the Philadelphia area and across Delaware County, J & P Fencing specializes in aluminum fence installation. Our aluminum fences are strong enough to withstand even the worst Pennsylvania weather conditions. We take pride in the fences we install and would welcome the opportunity to add you to our growing list of satisfied customers. We welcome you to call today for more info or to request a free estimate for your home or business.