Skip to Content
Chain Link Fence Installation
Chain-Link Fence Installation for Philadelphia Properties
Chain-link fences evoke feelings of security for most people. How many times have you heard the expression when talking about keeping trespassers at bay? While it may not always make the most aesthetically-pleasing choice, it is a functional, secure option for many home and business owners. Chain-link fences are commonly found in backyards, playgrounds, sports fields, military bases, airports, and correctional facilities, to name but a few. J & P Fencing offers affordable chain-link fence installation for Philadelphia and Delaware County-area residential and commercial properties of all sizes.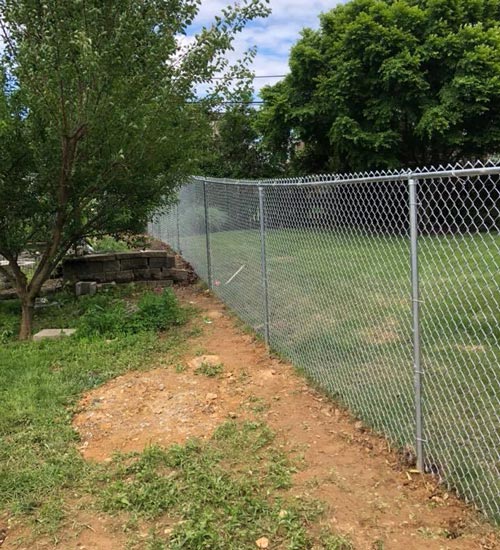 Besides Security, Chain-Link Fences Offer Other Benefits
There's a reason chain-link fencing can be seen all around your neighborhood. Besides security, there are many other advantages of installing chain-link fencing on your property, including:
Durability – Because chain-link fences are made of steel, there are fewer fencing options that can boast their durability and ability to withstand even the harshest weather elements. You also won't have to worry about pests like termites destroying your beautiful new fence!
Adaptability – Chain-link fences come in many styles, colors, heights, and thicknesses to adapt to your needs. If you have limited space available, chain-link fences may be installed with a sliding entrance or a walkthrough gate when a traditional swing gate won't fit.
Cost-Effective – Having a chain-link fence installed around your property is one of the easiest and most cost-effective fencing options we provide. If you're on a smaller budget, you can't go wrong with chain-link fencing.
Safety – Chain-link fencing makes a popular choice at parks, playgrounds, and schools because you're able to see through it for better visibility when monitoring children's safety.
Our Chain-Link Fences Are Built to Last
You don't have to worry about Pennsylvania's winters taking a toll on your new chain-link fence. No matter your property's size or setup, we'll provide a chain-link fence that's built to last. Our skilled fencing contractors work hard to complete all chain-link fence installations in Philadelphia and across Delaware County as efficiently as possible. We also strive to offer reasonable installation rates to help our customers get the most value out of their investment. Call us today for a free estimate!