Skip to Content
Wood Fence Installation in Philadelphia & Delaware County
You can't go wrong with a classic wood picket fence or a wood post-and-rail fence. Wood fencing is timeless, offering a rustic look that lends itself well to farms, ranches, and homes with sprawling acreages. However, many suburban home and business owners also prefer wood fencing because it's an economical, highly-visible choice that clearly defines property boundaries. J & P Fencing provides wood fence installation for Philadelphia and Delaware County property owners looking to increase their privacy or property value with attractive, affordable fencing.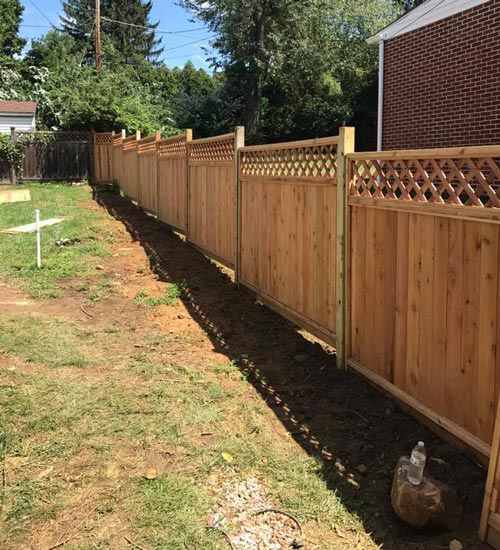 Advantages of Wood Fencing for You to Consider
Aside from being one of the first types of fencing that many people think of, wood fencing offers many advantages. Here are a few reasons to consider wood fencing for your next project:
Curb Appeal – Many people love the look of wood fencing, and it can help you increase your curb appeal significantly.
Adaptability – You can paint or stain wood fencing any color or texture you'd like to complement your style. It's also easy to customize wood fencing to your height requirements.
Durability – Certain precautions can be taken to ensure a longer lifespan for your wood fencing. Pretreating the wood or using a sealant can help you avoid issues with termites.
Affordability – Wood fencing is often cheaper to install or replace when compared to other types of fencing. It's easy to remove and replace one plank or one post at a time, rather than replacing an entire section or the whole structure.
Eco-Friendly – Wood is a renewable resource and recyclable, making it a great "green" choice!
Your New Wood Fencing Won't Go Out of Style
From privacy and picket fences to post-and-rail fences, J & P Fencing offers a variety of wood fencing options. Wood fencing has a natural look suitable for any location that won't ever go out of style. Please contact us today for all your wood fence installation needs in Philadelphia, Folcroft, or elsewhere in Delaware County. We'll stop at nothing to ensure you have a positive customer experience with us from start to finish.