Skip to Content
Vinyl Fencing for Philadelphia-Area Homes & Businesses
When you hear the word vinyl, you probably think of records or furniture. However, vinyl fencing offers a savvy alternative to classic fencing materials such as wood or iron. Vinyl fencing is very easy to install and maintain. Once it's in place, you'll never have to repaint or restain it. J & P Fencing can help you improve your privacy and security with high-quality vinyl fencing in Philadelphia and Delaware County. We pride ourselves on our competitive installation rates, flexible appointment scheduling, and prompt, reliable service. We're available on evenings and weekends by request. Call us today!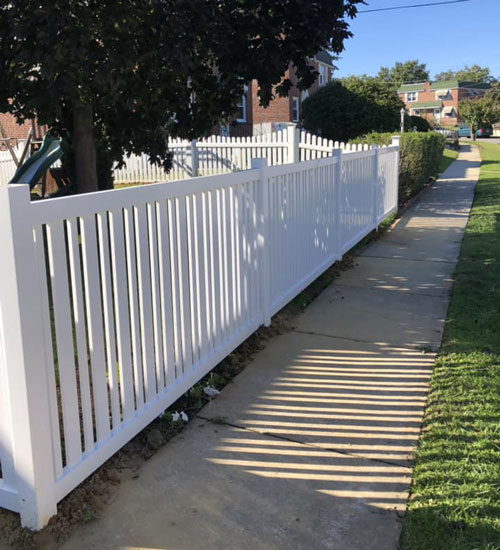 Reasons Why Vinyl Fencing Is So Popular Today
First introduced in the 1980s, vinyl fencing is gaining in popularity today for many reasons. It offers many distinct advantages over other types of fencing, including:
Strength – Vinyl fencing is built to last at least 20-30 years on average. You won't have to worry about Pennsylvania's precipitation or high winds, as it won't rust and it's about five times stronger than wood fencing.
Flexibility – Vinyl fencing comes in many colors, styles, textures, and heights to offer you design flexibility. Even if you live in an older home, its timeless look will blend in seamlessly.
Affordability – Because vinyl fencing is so easy to install and maintain, it's often cheaper than other types of fencing to install or repair. It can mimic the aesthetics of an inviting wooden picket fence with fewer maintenance costs.
Durability – Vinyl fencing is fire-resistant, pest-resistant, and rust-resistant, making it a durable choice. You won't have to worry about termites, splinters, or warping.
Eco-Friendly – Because it's recyclable and made of non-toxic materials, you can feel good about making an eco-friendly choice when you invest in vinyl fencing.
Add Value to Your Property with Vinyl Fencing
J & P Fencing offers a wide range of vinyl fencing options for Philadelphia and Delaware County homes and businesses. For more info or to request a free estimate, please contact us today. Thanks to our meticulous workmanship, we install quality fencing products that are designed to last.